1
« Last post by Jesso Yewno on Yesterday at 08:46:19 PM »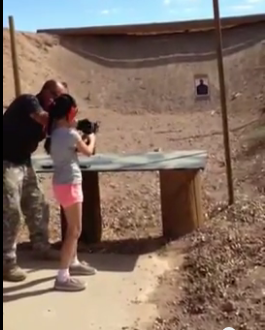 The footage shows instructor Charles Vacca teaching the girl how to use the weapon. He had her fire one shot on 'S' (single shot) before shifting the weapon to automatic ("A").
He then tells the girl," Alright, full auto."
9-year-old girl accidentally kills shooting instructor with Uzi

This video stops just before the fatal shot occurs.
https://www.youtube.com/watch?v=cfMzK7QwfrU
Vacca was standing next to the girl when she pulled the trigger. The gun recoiled and it went over her head. "
Very few children, boys OR girls, have the physical strength to control the recoil while shooting on Full Auto.The same can be said for many adults.
The website boasts that at their range, "you can shoot FULL auto on our machine guns. Let 'em Rip!".
Others refer to Full Auto as 'Rock n'Roll'.
Youtube has dozens if not hundreds of videos showing 'accidents' at weddings and other celebrations.The majority are in the Middle East where everyone and their dog, make that goat, has an AK47.